One of the ironies of insurance coverage is that the provider is in the business of paying as little as possible as late as possible on legitimate claims filed by their customers. This can easily lead to a conflict of interest and bad faith insurance claims and practices that, from the insured's position, invariably happen at the worst possible time.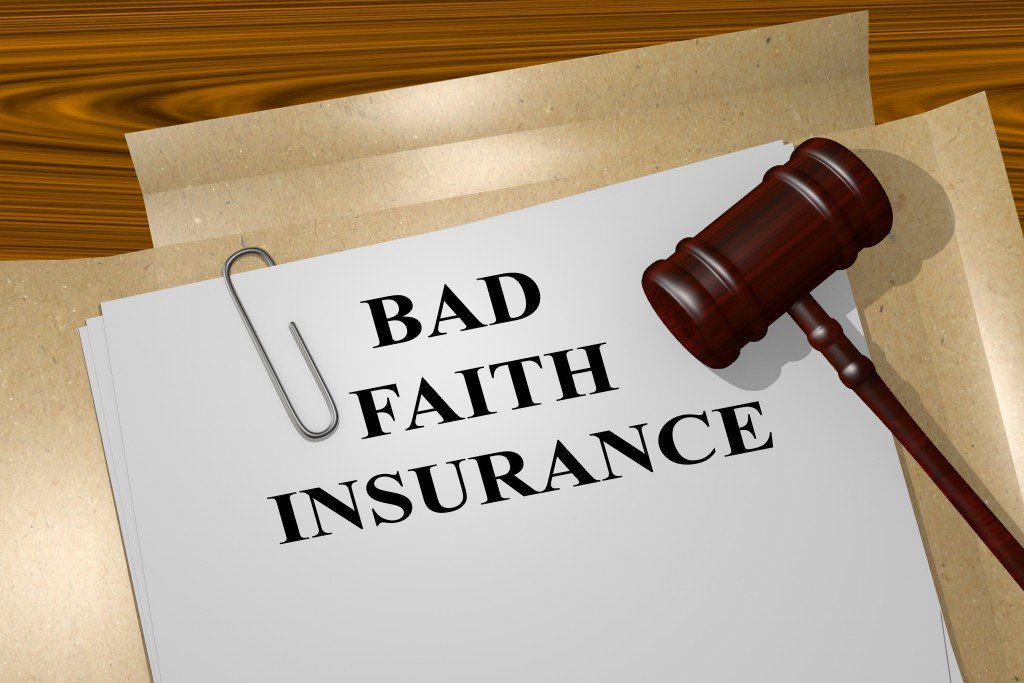 Insurance carriers can be guilty of bad faith practices in a multitude of ways, including when an insurance company fails to pay the proper amount for a claim filed by an insured; when the insurer delays payment of a legitimate claim; or, when the insurer uses dubious tactics to contest and dispute legitimate claims. 
These bad faith claims practices leave consumers wondering why they pay insurance premiums and how the carriers stay in business. Keep in mind, insurance carriers have more money than they know what to do with.  They would rather delay payments or practicing bad faith and gamble that the consumer will do nothing about it than act fairly. 
Their philosophy is that if the majority of claims they deny or treat with bad faith will save them enough money to pay for the times when someone actually sues them for bad faith practices. 
Don't be another statistic.
At the same time, the insurer could try to force the claimant to go to court to collect the right amount at a time when money is unusually tight. Bad faith insurance claims are truly a consumer's worst nightmare.
Bad Faith Insurance Claims Touch Every Type Coverage
Bad Faith Insurance claims can run the gamut of insurance coverage and are not restricted to any one type of coverage. Many experienced lawyers believe the larger the plaintiff's claim, the greater the chance the insurer will retreat to bad faith practices.
The spectrum of bad faith insurance practices extends to auto policies, including UM/UIM policies homeowner's insurance, life insurance, commercial property insurance, business insurance, truck insurance coverage and just about every conceivable insurance form, including renter's insurance.
10 Examples of Bad Faith Insurance Practices
If you have filed a sizable claim in Texas, it is very possible that the carrier has come close to breaching one or more of these bad faith insurance practices.
The insurer delays, discounts or denies payment without a reasonable basis.
The insurer fails to acknowledge and reply promptly upon notification of a covered claim.
The insurer fails to pay a covered claim as a result of an improper and prompt investigation as to reasonable liability and damages.
The insurer neither affirms nor denies coverage of claims within a reasonable time upon receipt of claim and/or proof of loss.
The insurer does not attempt to obtain a prompt, fair and reasonable evaluation of damages and equitable settlements in a reasonable time frame.
The insurer tries to settle a claim for less than the entitled amount and forces the claimant to resort to litigation.
The insurer fails to make known any arbitration award appeals policy in an attempt to settle a claim for less than the arbitration amount awarded.
The insurer requires claimant or a physician to submit both a preliminary claim report and formal proof of loss forms which contain substantially the same information.
Failure of insurer to promptly provide reasonable explanation and basis when denying or making a compromise offer of claim settlement.
Acting unconscionably.
To the claimant who has suffered, insurance companies can quickly become the enemy setting up roadblocks and procedural nightmares to delay proper settlement and pressure the claimant to accept lesser awards. Therein is the essence of bad faith insurance tort in the state.
Contact Your Bad Faith Insurance Claim Lawyer
In Fort Worth, the firm of Stoy Law Group, PLLC, the Warriors for Justice, represent plaintiffs in bad faith insurance claims. This is not an exercise for inexperienced attorneys or claimants. Very often these cases can be settled before going to court.
Contact Stoy Law Group, PLLC at 817-820-0100 to discuss your case and arrange for a free consultation. If your carrier is acting in bad faith, Stoy Law Group, PLLC can help.  
Fill out a free case evaluation today.