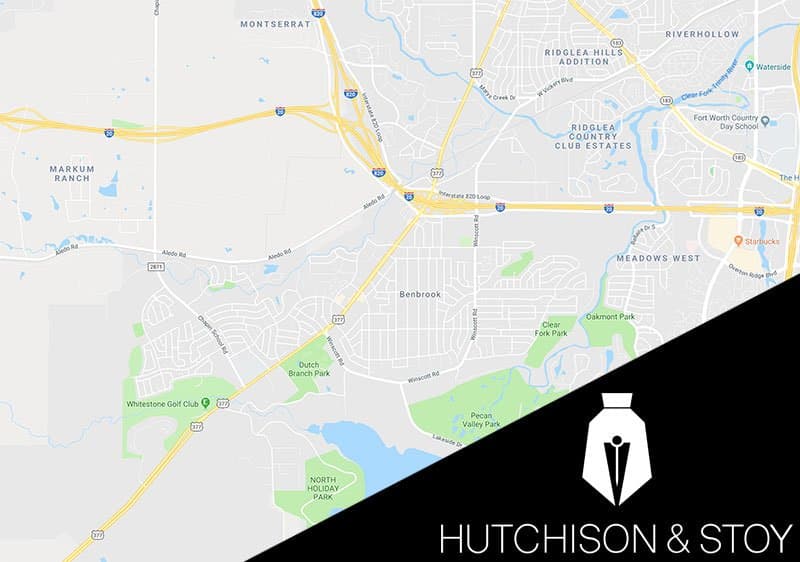 Just west of the Fort Worth area, Benbrook, TX offers the perfect balance between city life and the quiet of the country. This picturesque atmosphere is home to some of our country's finest people.
At the Law Offices of Stoy Law Group, we make it our business to protect and serve the people of Benbrook and the surrounding areas.
Not only is Stoy Law Group a top personal injury law firm, but we are also a top employment law firm as well.
Our dedicated team of attorneys brings the experience and expertise you need to handle any legal concern you may have, so you can focus more on enjoying everything the Fort Worth area has to offer.
A Personal Injury Law Firm serving Benbrook, Texas
At Stoy Law Group, we pride ourselves on providing a voice to the voiceless, and we make it our business to fight tirelessly on your behalf to get you the justice you deserve. If you or a loved one have been injured as a result of the negligence of another person, company or entity, you have the right to pursue compensation for these injuries.
After you've been injured, an insurance adjuster will get in touch, presenting themselves a trusted advisor with your best interests in mind, despite the fact that they work to secure the most favorable outcome for the insurance company – not you.
It's critically important that you speak with a top personal injury law firm before accepting any offer the insurance company may have for you.
Our personal injury team led by attorney Chris Stoy is standing by to provide you with the advocacy you need to secure the outcome you deserve.
Regardless of how you were injured, or the circumstances that surround your injury, let the experienced lawyers at Stoy Law Group review your case today and provide you with the advocacy you deserve now.
When to Contact a Personal Injury Attorney
If you've been injured as the result of another party's negligence, you need to retain a qualified attorney from the kind of personal injury law firm with a reputation for bold advocacy.
At Stoy Law Group, we litigate claims that arise from many types of injuries, including:
Motor Vehicle Accidents
Everything's bigger in Texas.
Unfortunately, that extends to the number of motor vehicle accidents we have each year. According to the Texas Department of Transportation, over 14,000 car accidents in Texas last year resulted in a serious injury.
This includes car accidents as well as accidents from trucks, buses, and motorcycles.
While the majority of these crashes could not have been prevented, there are still thousands of accidents each year that are a result of the direct negligence of one of the involved parties.
Should you find, yourself injured in a motor vehicle accident, retaining a seasoned car accident lawyer is the smartest thing you can do if you're serious about getting the justice you deserve.
At Stoy Law Group, it doesn't stop at car accidents, either. We can also connect you with a top truck accident lawyer or motorcycle lawyer from our firm if necessary.
Regardless of the type of motor vehicle accident you were involved in, we can help.
Job Site Injuries
The DFW area is home to some of the hardest working Americans in the country. Texans take pride in a job well done and are always willing to go the extra mile to get the job done right.
When employers don't do their part to provide a safe and secure work environment for their employees, our firm is ready to go to work.
Work-related injuries come in many forms. Whether your injury is the result of a construction accident, chemical exposure, a slip, and fall or any other type of workplace injury, our dedicated team of trial lawyers is prepared to get you the justice you deserve.
Regardless of the circumstances surrounding your injury, we'll work with claims adjusters, judges and juries to illustrate exactly how the negligence of another party was a direct cause of your workplace accident.
We evaluate every case closely to determine exactly who is at fault in your case, and then, we work tirelessly to secure the positive outcome and the compensation that you deserve.
Through the years, we have represented countless Benbrook area residents in their personal injury cases.
We do not take our responsibility to our clients lightly.
When you place your trust in Stoy Law Group, we work tirelessly on your behalf to secure the justice you deserve.
Wrongful Death
A wrongful death is defined as a loss of life that occurs as a direct result of the actions of another. Regardless of whether or not the other party acted intentionally is of no concern of the courts.
The fact of the matter is that your loved one is no longer with you, and the fault lies with another party. While there's no way we'll ever be able to bring your loved one back to you, we will work tirelessly to ensure that you receive the financial compensation you deserve.
We seek legal action against the person or institution who is responsible for the death of your loved one.
This can include:
People
Hospitals or medical institutions
Government institutions
Companies
Regardless of the parties involved in your wrongful death case, immediate family members or other real parties in interest can file a wrongful death suit on behalf of your loved one to cover the financial and emotional burden caused as a result of their death.
These lawsuits can include compensation for pain and suffering, medical and funeral expenses and loss of wages.
Since these lawsuits can result in such large payouts, it's no wonder that insurance companies do everything in their power to offer paltry settlements rather than take a case to trial.
Our skilled wrongful death attorneys can provide you with the legal expertise you need every step of the way to ensure that you receive the most favorable outcome in your case. Whether by settlement or trial, our team will work tirelessly on your behalf to get you the compensation you deserve.
Product Liability
If you've been injured as the result of a defective or unsafe product, our skilled team of attorneys can get you the justice you deserve.
Often, people don't realize that the injury they've sustained is the result of a product failing to perform properly.
In the case of an automobile, it isn't uncommon for an accident to be caused by defective components such as faulty tires or brakes.
After an accident, a faulty seatbelt or faulty airbag can end up doing more harm than good.
Whatever the case may be, if your injury is the result of a defective product, you need a skilled advocate in your corner who can get you the compensation that you deserve.
An Employment Law Firm serving Benbrook with a Personal Touch
Our team of seasoned attorneys also specializes in all manner of employment law cases.
In Texas, labor and employment law is vast, and it can be nearly impossible to navigate through the different particulars of the law without help.
At Stoy Law Group, our lawyers have the experience you need in every aspect of employment law, including but not limited to:
Each of these different subsets of labor and employment law come with their own unique challenges and nuances, and our team has the experience you need to navigate each and every area of the law in search of justice.
Discrimination
Employment discrimination comes in a myriad of different forms that have the potential to affect employees. Both state and federal law protects employees against discrimination based on age, gender, race, disability, religion, sexual orientation and more.
If you've been discriminated against by a current or former employer, contact us today, so we can learn how to best approach your needs, and pair you with the best discrimination lawyer for your case.
Harassment
Harassment in the workplace comes in many forms. It can be verbal, physical, or sexual in nature.
In any form, state and federal laws strictly forbid workplace harassment.
But, victims of this type of harassment are often shunned by their employer or face backlash from the accused.
Don't let anyone come between your right to a safe and secure workplace, contact Stoy Law Group today and secure representation from the premier employment law firm in the DFW area.
Retaliation
Workplace retaliation is often a symptom that arises after an employee has reported a violation of the labor and employment law.
These types of cases often involve other areas of employment law, and it's important that your advocate understands each and every aspect of the law to handle your case properly.
If you've been the victim of workplace retaliation, our attorneys have the expertise necessary to handle your case.
Fair Pay or Fair Labor Standards Act Violations
Employees in Texas work hard for their money, and they're entitled to fair and equitable compensation for the time they spend working under the laws of our state and country.
But, employers sometimes attempt to manipulate their employees into working for free, or for less than they deserve.
These practices are wholly unacceptable, and you deserve better. Let us evaluate your fair pay or fair labor standards act case today to determine if you have been subjected to these violations.
Leave
Sometimes, the circumstances of our lives supersede our need and desire to work.
You may find yourself in a situation that requires that you temporarily take time off from work to handle other pressing matters.
The law protects employees that must take a leave of absence, and if your employer has violated these laws in relation to your leave of absence, we can provide you with the advocacy you need to get justice.
Breach of Contract
Some employees work on a contractual basis with their employer. Just like any other type of contract, an employment contract is legally binding between the two parties that enter into the agreement.
However, sometimes employers will try to violate the terms of this contract.
Don't let an employer violate the rights you're entitled to.
Our dedicated team of trial attorneys has countless hours of experience dealing with cases like yours. Contact us today so we can learn more about your situation.
A Civil Rights Lawyer You Can Trust
The incredible Dr. Martin Luther King once said: "injustice anywhere is a threat to justice everywhere."
At the Law Offices of Stoy Law Group, we believe that truer words have never been spoken.
Given the opportunity, we make it our business to pursue justice for each and every one of our clients who has fallen victim to civil rights violations at the hand of another.
As one of the leading civil rights law firms in Texas, we take our responsibility to protect our client's rights with the reverence they deserve. With decades of experience trying cases like yours, our experience and expertise is the winning formula you'll need to fight back against those who have violated your civil rights.
If your constitutional rights have been violated, the most important thing you can do is retain a quality civil rights lawyer.
Our firm prides itself on our intimate knowledge of constitutional and civil rights law, and we bring the expertise you need to secure the best possible outcome in your civil rights case.
Whether your case is related to police misconduct, misconduct committed by other law enforcement officers, discrimination, or first amendment violations, or you're a whistleblower who is facing retaliation for doing the right thing, our talented attorneys and civil rights lawyers can help you today.
Contact the law offices of Stoy Law Group so we may learn more about the particulars of your case and pair you with the best civil rights lawyer for your case.
Contact Stoy Law Group, PLLC. Today
If you have any questions about a personal injury, employment, or civil rights case, the lawyers at Stoy Law Group are here to help! If you are located in Benbrook or any other city in the DFW metroplex, our law firm will fight for you.
Call our firm at 817-820-0100 or fill out the free case evaluation form to speak with an attorney today.