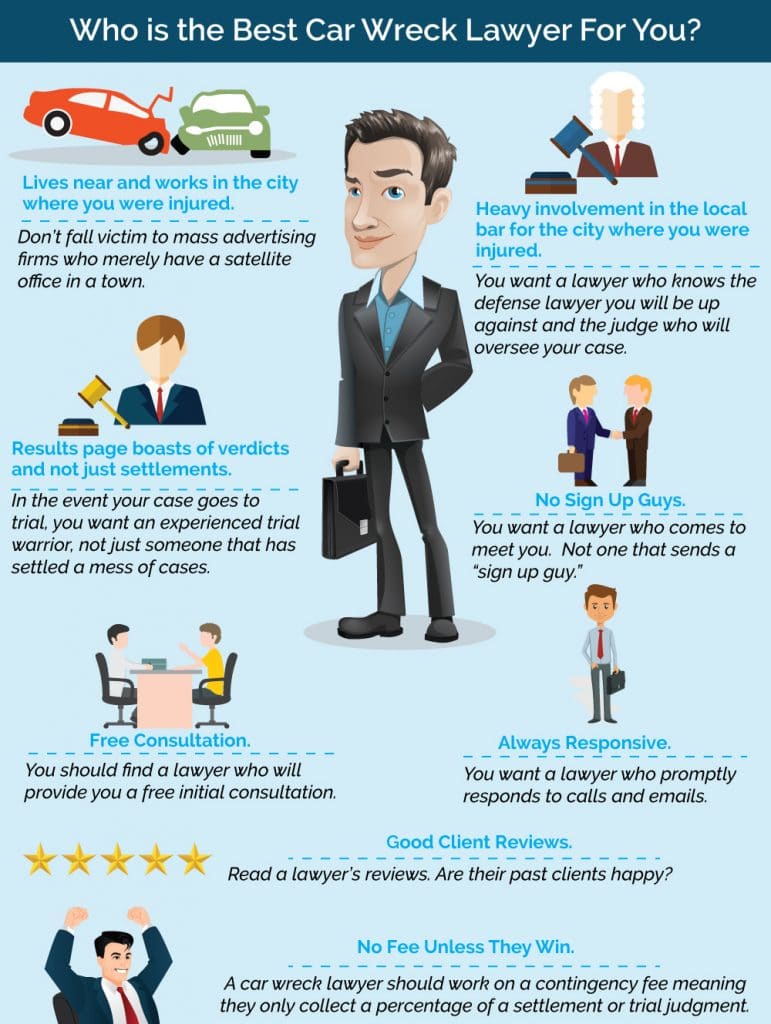 When you're injured in a car wreck you want the best car wreck lawyer around. Makes sense. You wouldn't want the second best heart surgeon performing your triple bypass so why should you settle for the second best car wreck lawyer? But, what makes someone the best car wreck lawyer? Experience? Catchy ads? A winning smile? We've tried to compile a list of traits and attributes you should look for when searching for the best car wreck lawyer. They are in no particular order but some are more important than others.
Lives near and works in the city where you were injured
Don't fall victim to mass advertising firms who merely have satellite offices in different small towns. You want a lawyer who has roots in the community.  When a lawyer lives near and works in the city where you were injured, he/she will be able to provide you a home field advantage.  He/she will know more about the location where the wreck occurred and how the potential jurors feel about things such as mental anguish and pain and suffering.
Heavy involvement in the local bar for the city where you were injured
You want a lawyer who knows the defense lawyer you will be up against and the judge who will oversee your case. If a lawyer is heavily involved in the local bar, chances are that he/she interacts with the judges often. If the lawyer interacts with the judges on a regular basis, he/she will be better at predicting how a judge will rule on certain issues in your case. Sometimes this is the equivalent of having the answers to the test. And it never hurts to have a judge who likes your lawyer. So look for a friendly lawyer. Ask him or her if he knows the judges in the community. Look at his website profile. Is he/she on any local bar boards or organizations?
Results page boasts of verdicts and not just settlements
In the event your case goes to trial, you want an experienced trial warrior, not just someone that settles cases.  Most cases don't go to trial. But if yours does, don't you want a lawyer who has been there before? When it comes to trial, experience is everything. A lawyer can talk big, but results speak for themselves. When you're searching for the best car wreck lawyer, look at each lawyers results page. Does it boasts of "settlements" or "verdicts?" You want one with verdicts. And don't hesitate to ask potential lawyers about cases they have tried.
No Sign-Up Guys
You want a lawyer who comes to meet you. Not one that sends a "sign-up guy." Mass firms have a tendency to use sign-up guys, commonly referred to as "SUG's." This means that instead of sending a lawyer to come meet you for your first meeting with the firm, they are sending a smooth talking SUG who is going to pressure you into signing up with the firm without delay. Is this really the kind of treatment you want from your lawyer? You DO NOT have to sign up with someone the first time they meet you.  Take your time.  Interview a couple lawyers before you sign a contract. And pick one who comes and meets you or has you meet him/her in your office.
Free Consultation
You should find a lawyer who will provide you a free initial consultation. The best car wreck lawyers NEVER charge for your initial consultation. If a lawyer asks for a consultation fee, run!
Always Responsive
You want a lawyer who promptly responds to calls and emails. You are going to have a lot of questions during the litigation process. You want someone that responds quickly. Lawyers get busy, so you wont' always be able to speak directly to the lawyer. Make sure the lawyer has competent support staff who is friendly and always willing to help.
Good Client Reviews
Read a lawyer's reviews. Are past clients happy?
No Fee Unless They Win
A car wreck lawyer should work on a contingency fee meaning they only collect a percentage of a settlement or trial judgment if they win. A contingency fee should also state that you pay no expenses to the lawyer if you lose.
If you have any questions about car wreck lawyers, give us a call. We'd be happy to answer them. If you've been involved in a car wreck and you need help, we're here for that as well. You can reach us at the office at (817)820-0100 or fill out a free case evaluation form online.