Update: The lawyers at Stoy Law Group are now representing clients for the JUUL lawsuit.
What are E-Cigarettes?
Electronic cigarettes or "E-cigarettes" is a general term used to describe a wide array of nicotine delivery devices. These devices consist of but are not limited to: e-cigarettes, personal vaporizer (PV's), e-cigs, electronic delivery systems (ENDS), or mods.
This includes e-cigarettes, vape pens, e-hookahs, cigalights, and personal vaporizers. Their designs vary widely, and they can look like anything from flash drives to Darth Vader's head, but typically resemble a pen, a cigarette, or cigar and are mostly powered by lithium-ion batteries.
Most often, e-cigarettes are powered by lithium-ion batteries that power a component called an atomizer which causes the device to produce a heated vapor which is inhaled by the user.
Also referred to as e-liquid or e-juice, the liquid used to create the vapor contains various chemicals including nicotine, glycerin, and some flavors. That's why instead of smoking, people who use e-cigarettes call it vaping.
Many people believe that e-cigs are a healthier alternative to smoking cigarettes because of the way the nicotine is delivered.
In truth, there is little to no research to prove this considering that e-cigs were only first patented in 2003 and available for purchase in the United States starting in 2007. One thing is certain, however; the devices themselves are dangerous and even deadly.
How do E-Cigs Work?
E-cigs typically contain either an atomizer or cartomizer heating element that vaporizes a liquid flavored tobacco solution. The solutions (also known as "juices") often contain a mixture of propylene glycol, vegetable glycerin, nicotine, and flavorings.
E-cigs are either automatic or manual. Automatic e-cigs or vaporizers heat when the user inhales. Manual e-cigs or vaporizers have a button or other switch which, when triggered, causes the device to heat. Some manual devices have timeout functions which prevent overheating.
The more dangerous ones do not.
In addition, some manual devices have locking features to prevent the device from operating while in a person's pocket or purse. However, like other products on the market, some of these locking features are not properly designed and can lead to catastrophic injuries.
Moreover, the devices, in general, can be poorly designed which can lead to an explosion or fire.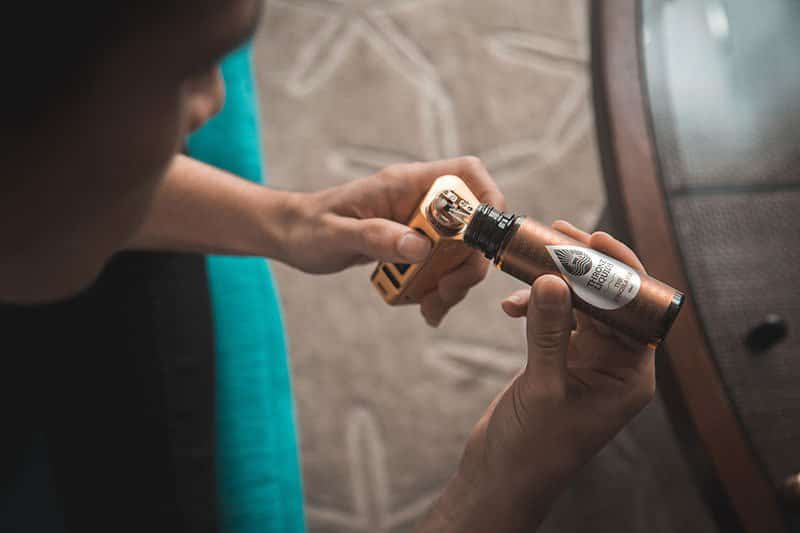 What are the Safety and Regulation Measures for E-Cigs?
As of now, no product standard exists for e-cigarettes, leading to a rise in e-cig lawsuits due to the number of safety issues and unknowns with this relatively unregulated product.
Since there is not a set product guideline for e-cigarettes, vape pens can be modified to the user's tastes. As a result, they vary widely in appearance and size. Some vape pens called mods need larger e-liquid quantities, produce more vapor, require larger batteries and are less portable than the pen variety.
Vape pen mods result in inhaling more substantial amounts of the potentially harmful chemicals produced by the resulting larger vapor. Many of the mods, which have essentially been tinkered with to create a customized vape product, can contain defective materials.
The Food and Drug Administration (FDA) has announced that it is planning to develop standards to prevent the danger of explosions that are associated with e-cigarettes, their batteries, and resulting user health issues.
E-cigarettes were not even under regulation by the FDA's authority until May 2016, despite having been sold in the United States since 2007.
They are also trying to learn more about the chemical levels in the e-liquids used in e-cigarettes and how to standardize those products before they hit the market in the future, citing the administration needs to, "consider…levels of toxicants."
In other words, the products and accessories continue to be released and sold without an industry standard or regulations that can keep up with what is being produced.
The agency recognizes the risk of explosions and health hazards.
However, they are still in the planning phases of what safety standards e-cigarettes should conform to. At this point, they are in the data collection phase for the explosive incidents that have and continue to occur.
For now, the only regulating the FDA has done for e-cigarettes is with regards to the marketing and sale to minors as part of their Youth Tobacco Prevention Plan, proposing e-liquid containers be made childproof, and requiring a warning label that the product contains nicotine.
No rules or regulations have been passed regarding e-cig safety, but manufacturers do have until August 2022 to submit a pre-market tobacco application to the FDA for approval of marketing practices of all products created after February 2007. The application will also have to disclose all ingredients.
However, producers and retailers can continue to sell e-cigarettes, and the FDA estimates about a year to review submitted applications. So realistically it could take up to August 2023 for the FDA to determine whether a manufacturer will face enforcement by the agency.
Also, in 2017 the U.S. Fire Administration under the Federal Emergency Management Agency (FEMA), reported that there are no laws designed for e-cigarette safety.
Although products used by consumers have to undergo testing, e-cigarettes and the batteries used in e-cigarettes are not currently required to be tested for safety.
Part of the reason why the government is having such a difficult time coming up with regulations for e-cigarettes accidents and the dangers regarding explosions and fires is that they have struggled to locate accurate statistics on these incidents.
Due to a lack of centralized stats, the U.S. Fire Administration had to rely on news and media reports about e-cigarette accidents to obtain their own statistics to build their report on the dangers of vape pens.
It wasn't until 2014, seven years after e-cigarettes were introduced in the United States, that the National Fire Incident Reporting System created a category for fires caused by e-cigarettes. Even this step hasn't resulted in producing accurate statistics because not all fires are reported to the system.
One agency that has had no qualms about attempting to regulating the use of e-cigarettes is the Federal Aviation Administration (FAA). As a result of e-cigarettes burning while being transported in luggage, in May 2016 the FAA issued rules intended to protect passengers. It prohibited e-cigs from being charged while on the plane or from being carried in checked luggage.
However, e-cigs are still allowed to be taken on the plane in carry-on luggage, and spare batteries must be in the carry-on or on the person as well. Since e-cigarette explosions have occurred while carried in pockets and purses, the ban won't prevent these types of accidents from possibly happening during a flight.
Because e-cigarettes are so unregulated, there have been numerous e-cig lawsuits related to issues stemming from their use that has caused:
Explosions leading to serious injuries and death
Fires that have burned victims and caused property damage
Health issues from toxic e-liquids
Health issues from deceptive marketing practices promising e-cigarettes help to quit smoking
Why do E-Cigarettes Explode?
Although vape manufacturers claim that e-cigarette explosions are rare, there seem to be plenty of news stories and videos that go viral that prove the opposite.
Because there are no safety standards for e-cigarettes to be held to, any number of reasons could be behind the malfunctions that have resulted in fires and explosions. However, the most common theory is that they use lithium-ion batteries, which have been known to overheat and have led to the e-cigarette accidents.
Lithium-ion batteries have been named as the culprit for a spate of Samsung mobile phone fires which led to a massive product recall. The batteries posed such a danger for causing explosions that the U.S. Consumer Product Safety Commission became involved.
The same types of batteries were also blamed for making laptops overheat and posing a burn risk, leading to laptop battery recalls. Lithium-ion batteries were found to be the cause of hoverboard explosions, and resulted in product recalls too.
Lithium-ion batteries are a favorite amongst product manufacturers and consumers because they are powerful and rechargeable. However, therein lies part of the threat posed by the batteries, especially in e-cigarettes.
E-cigarettes expose the batteries to a heating component contained within the product, which is used for the e-liquids to produce the vapor. It is thought that exposing the powerful batteries to a heat source, especially one so closely-contained to the battery due to the small size of the portable e-cigarette, has been the leading cause for many vape accidents and e-cigarette explosions.
Additionally, lithium batteries themselves can have a defect internally which causes thermal runaway, which is when the batteries reach such a high temperature and overheat, it leads to a fire or explosion.
Although e-cigarette explosions have occurred while the batteries were being recharged and when the e-cig was in use, the highest number of e-cigarette accidents happened while the device was simply being carried around in a pocket. There have been warnings that loose pocket change coming in contact with the batteries can also potentially spark an explosion.
Of the almost 200 vape explosions and fires that were documented from 2009 to 2016, close to 70% caused severe injuries.
Despite the number of e-cig accidents and resulting lawsuits, no recalls have been issued. Furthermore, the U.S. Fire Administration presented evidence that as vape pen sales have increased, so have the number of vape accidents and the level of injury.
They concluded that as long as lithium-ion batteries are used to power e-cigarettes, there will continue to be injuries and accidents.
How often are Fires and Explosions occurring and what are the Injuries?
The authoritative data on e-cig and vaporizer fires and explosions is scarce since these devices have only been on the U.S. market since 2007.
However, e-cig fires and explosions have become a growing concern to firefighters and medical providers who treat burn injuries. In fact, even in 2014, the National Fire Incident Reporting System (NFIRS) had no standard protocol for fire service personnel to code incidents caused by e-cigs and vaporizers.
Moreover, it is well accepted by the NFIRS that many fires go unreported.
The U.S. Fire Administration conducted an investigation for a July 2017 report which looked at 195 e-cig fires and explosions from January 2009 through December 2016. Among other causes, it found that:
61 incidents occurred while in the user's pocket
60 while the device was being used
48 while being changed
18 while being stored
In its 2017 investigation, the U.S. Fire Administration found that 133 of the 195 incidents caused injuries. It found that 80 were moderate, 38 were severe and 15 were minor.
Moderate injuries are those where the person required emergency room treatment for smoke inhalation, 2nd-degree burns or lacerations requiring stitches.
Severe injuries are those that required hospitalization where the victim may have suffered the loss of a body part, 3rd-degree burns or facial injuries.
Minor injuries are those where the victim suffered smoke inhalation, minor lacerations or 1st-degree burns.
Clearly, e-cigarettes and vaporizers are unsafe products.
Injuries Caused by Electronic Cigarettes
Vaping accidents, explosions, and fires have caused:
Second and third-degree flame burns
Chemical burns
Loss of limbs
Facial injuries
Upper-body burns
Burns to the groin area (suffered by pocket carriers)
Gashes which required stitches
Fractured teeth
Eye and/or vision loss
Smoke inhalation
In May 2018, an e-cigarette explosion killed a man in St. Petersburg, Florida. He was found by the fire department that came to put out the fire that ensued from the explosion. The victim was said to have burns to his body and wounds around the mouth. As a result of the explosion, a part of the e-cigarette became a projectile that caused a head injury that ultimately caused his death.
A California man suffered the loss of an eye from an e-cigarette explosion. A former cigarette smoker, he switched to e-cigs because he believed that they were safer. When he put down an e-cigarette he had recently smoked, it exploded and launched a projectile at his eye, broke bones in his face and embedded shrapnel in the eye. The explosion also started a fire on his computer.
In 2015, a vaping lawsuit was filed by a group of plaintiffs in Los Angeles, which included a victim who had lost a finger due to an e-cigarette explosion.
E-cigarettes have even caused injuries to people near the product, but who weren't actually vaping and when the e-cig wasn't in use.
In 2016 an e-cigarette explosion in someone's pocket on a ride at Orlando's Universal Studios caused burns to the face and upper body to a nearby 14-year old fellow rider. The owner of the e-cigarette suffered burns to his leg, and a hole was burned into the seat of the ride itself.
If you've been injured as a result of an e-cigarette explosion or malfunction, speak to an experienced e-cig lawyer from Stoy Law Group, PLLC at (817) 820 – 0100.
Results of Injuries Caused by E-Cigarette Accidents
E-cigarette lawsuits have been filed by victims who have suffered injuries from accidents and fires caused by defective and unregulated e-cigarettes that have required hospitalization and incurring medical expenses of various kinds.
Accident victims have needed:
To be placed in medically-induced comas
Skin grafts to heal burns
Wound care for chemical burns from the alkali in the batteries
Reconstructive plastic surgery
Dental work for tooth damage
Treatment for tissue loss
Occupational and physical therapy
A medically-induced coma is a method doctors rely on to prevent swelling in the brain. It also prevents the sufferer from feeling pain.
Skin grafting is a procedure used for burn victims to replace burned skin. It's a skin transplant surgery in which skin is taken from one part of the body and imposed over the area where the skin was lost due to injury.
Occupational and physical therapy may be necessary for victims of e-cigarette accidents who lose fingers or suffer burns that impact their ability to use their hands or legs.
In addition to the physical wounds and injuries incurred due to e-cigarette injuries, many victims also need psychological care and counseling due to traumatization and post-traumatic stress.
Have you suffered an injury due to e-cigarette usage? The experienced vape attorneys at Stoy Law Group, PLLC can help. Call (817) 820 – 0100 to learn more.
The Booming Electronic Cigarette Industry
Despite the knowledge that these e-cigs are dangerous, manufacturers keep producing them.
Why? Because the profits are enormous.
A boom in the e-cig and vaporizer industry occurred around 2014. But the boom wasn't just in dollars. It was in injuries too.
In 2014, e-cig sales were at around $500 million and incidents recorded by the U.S. Fire Administration were around 60. By 2016, sales were at $3 billion and incidents had more than doubled. This figure doesn't tell the whole story though.
As noted above, fire treatment community hasn't issued standard protocol for identifying e-cig and vaporizer related fires and explosions. The number is likely much higher. In addition, consumers are unaware of the volatility and danger of e-cigs and vaporizers.
As of July 2017, reports show that there were close to three million American people who used e-cigarettes and that "vaping" has become a multi-billion dollar industry.  There has been a steady rise of vape manufacturers, retailers, and e-liquid producers who all want to get a part of the money-making market.
E-cigarettes are estimated to bring in about $1.5 billion in sales and are expected to grow by nearly 25% in 2018. Besides retail sales, investors are pumping serious money into e-cigarette stocks and companies. With their skyrocketing revenues, e-cigarette companies have increased their marketing budgets by more than 100%.
E-cigarette companies are allowed to market in ways that tobacco cigarettes have been banned from doing. For example, e-cigs can advertise on television, and sponsor events like film and music festivals.
They also do a lot of marketing on social media platforms, and even receive free marketing and trendy exposure in the form of e-cigarette users posting Instagram photos and Youtube videos showing vaping smoke tricks, which garner millions of views.
Vaping has become widely popular because many social media campaigns have been waged to promote the use of e-cigarettes as young, fun, and even sexy. And until recently, vape shops and brands were allowed to offer free samples.
Promotion of e-cigarettes as a safer, healthier alternative to tobacco cigarettes, coupled with promises it can help to quit smoking, strategic marketing strategies, and enticing flavor varieties that don't taste like cigarette smoke has caused e-cig sales to skyrocket.
Wall Street experts speculate that in about ten years, e-cigarette sales will dominate tobacco sales.
What to do if you're Injured by an E-Cig or Vaporizer
Litigation on e-cigs and vaporizers has just begun. If you've been injured by an e-cig or vaporizer, you need an attorney experienced in this type of law. That is where the attorneys at Stoy Law Group, PLLC can step in and help.
Please feel free to contact us at our office at (817) 820-0100 or fill out a free case evaluation.
E-Cigarettes also cause Property Damage
E-cig lawsuits are also on the rise due to the property damage that occurs when they malfunction. FEMA's U.S. Fire Administration reported that in many of the e-cig explosions, in addition to injuries, there was also property damage. A fire caused by the e-cig accidents spread through houses damaging furniture and cars for those accidents that occurred in vehicles.
In May 2018, an e-cigarette was found to be the cause of a Maryland home fire which caused over $100,000 in damages to the house and its contents. The destruction from the fire made the structure unlivable and the family had nowhere to live and had to turn to the Red Cross for assistance.
In March 2018, a family in Vancouver lost their home due to a fire caused by an e-cigarette.
The fire department concluded that the e-cigarette overheated inside of a backpack and started the fire, which spread through the house before the owners could contain it.
In 2017, a New Jersey man's e-cigarette exploded in his face and burned down part of his home.
Many vape pens have also caught fire inside cars, burning drivers and could potentially lead to car accidents.
In 2017, a Phoenix-area driver's e-cigarette exploded in her lap while she was in her car. When she jumped out of her moving vehicle because she was on fire, the car kept going and crashed into a tree. Fortunately, no other vehicles were involved in the wreck that claimed her car.
Did an e-cigarette cause damage to your property? Contact Stoy Law Group, PLLC at (817) 820 – 0100 to talk to a lawyer experienced with vaping lawsuits.
Health Risks Posed by Electronic Cigarettes
Besides the potential for injuries and property damage that vape pens can cause, there have been e-cig lawsuits by users who have found their health negatively impacted by vaping. They have gained a lot of popularity by representing to cigarette smokers that e-cigarettes are less addictive and will help them to quit smoking, a marketing claim used to sell products without the science to back it up.
E-cigarettes do not bear the FDA's stamp of approval as a method to quit smoking. They are classified together with regular tobacco products. Smoking cessation products have their own category with the FDA, identified as nicotine replacement therapies, which e-cigarettes are not a part of.
In fact, research has shown that the health effects of e-cigarettes are similar to regular cigarettes, and in some cases, can be even more dangerous. E-cigarettes and their e-juice can:
Contain substances known to cause cancer
Suppress and damage the immune system
Cause lung diseases
Increase the risk for heart attack
Cause nicotine poisoning
Carcinogens
There are over seven thousand kinds of e-liquids available, each with its own recipe, as e-liquids can be mixed by the manufacturer, retailer or even the user at home. There are many cancer-causing chemicals in the vapor produced by e-cigarettes and metals that get sucked into the lungs.
In 2017, John Hopkins Bloomberg School of Public Health released a study citing heavy metals found in e-cigarette vapors that have been shown to damage the brain, heart, liver, and lung. Although vape manufacturers claim that vaping is a healthier alternative to smoking cigarettes, these same metals are also found in regular cigarettes.
One of the common metals found in heated e-liquids is lead. Before heating, the e-juice had trace amounts of lead, but once used as indicated in the vape pen, the amount of lead was found to be 25 times higher.
Faulty heating coils in e-cigarettes have also been shown to leak metals that contaminate the vapor with high amounts of lead. Inhaling high amounts of toxic lead and the other metals made by vaping affect the liver, heart, brain, and lungs.
Many studies have found that e-cigarettes produce formaldehyde which has been classified to cause cancer by the International Agency for Research on Cancer. Long-term daily vaping can increase the risk of cancers such as brain cancer, cancer in the nasal cavities and sinuses, and leukemia, due to prolonged exposure to formaldehyde.
Formaldehyde was linked to cancer from long-term studies on people whose jobs expose them to the chemical on a daily basis, such as embalmers in the funeral industry, medical and industrial workers. The formaldehyde in e-cigarettes is caused by heated propylene glycol, and glycerol used to carry the flavorings and nicotine in e-liquids.
Lung Disease
Many e-cigarettes have been marketed as a safe alternative to standard cigarettes and cigars. However, even the Surgeon General has issued a warning that some e-liquids, especially the flavored varieties, contain diacetyl, a harmful chemical that can lead to lung disease and even second-hand vaping can cause health problems.
Diacetyl is known to cause a condition referred to as "popcorn lung." The name resulted from workers at popcorn factories who developed the illness after inhaling the chemical that was concealed in the buttery smell in the air at their workplaces.
Popcorn lung, whose medical name is bronchiolitis obliterans, causes narrowing and scarring of the bronchioles in the lung, making it hard to breathe. The typical symptoms include a dry cough, unexplainable fatigue, and irritation of the nose, eye, mouth, and skin.
Once popcorn lung develops, it is incurable, and there's no way to reverse the damage scarring has caused to the lungs.
Many people do not realize they have popcorn lung until it's too late because it can be hard to distinguish from other respiratory issues like asthma and chronic obstructive pulmonary disease (COPD).
In 2016, under an order from the EU Tobacco Products Directive, diacetyl was banned in the European Union due to its link to popcorn lung. However, diacetyl has not been banned in relation to e-cigs in the United States and is still being used in popular e-cigarette flavors.
Immune System Damage
Studies have also found that similar to cigarettes, vape pens damage and suppress cells in the immune system. The vapor can cause inflammation like the kind caused by lung disease in habitual cigarette smokers.
A 2017 study that compared e-cigarette users, regular smokers and non-smokers showed that only the e-cigarette smokers had higher levels of certain proteins both outside and inside their lungs that can lead to inflammatory conditions like vasculitis, lupus, and COPD.
Vaping has also been shown to impact genes that support the immune system which can lead to a higher risk of contracting viruses or infections from bacteria due to a weakened system.
Increased Heart Attack Risk
Stanton Glatz, an e-cigarette expert for the Center for Tobacco Control Research and Education, published a study in 2018 which says that people who vape every day double their chances of having a heart attack. His study, which is the first long-term examination of vaping, also reveals that people who vape and smoke cigarettes have five times the risk of suffering a heart attack compared to nonsmokers.
Nicotine Poisoning
Due to the concentrated amounts of nicotine that can be found in some e-liquids, nicotine poisoning, which used to be rare, has become a more common occurrence. Nicotine poisoning was not something typically suffered or reported by regular tobacco smokers. Symptoms can include nausea, vomiting, accelerated heart rate, and dizziness.
The high levels of nicotine in e-liquids are even more dangerous for children, and the resulting nicotine poisoning has even proved fatal.
Children are drawn to the:
Colorful packaging – many e-liquids come in brightly colored boxes and bottles
Flavors and scents – vanilla, cotton candy, caramel
Packaging that looks extremely similar to juice boxes, well-known candies and cookies
In 2016, the National Poison Data System reported that the number of children under the age of six who had been poisoned by e-juice had skyrocketed by 1500%.
Many of the children who suffered nicotine poisoning had swallowed the liquid, but since the nicotine in e-liquids has such pure concentrations, it could also be absorbed by contact with skin or if accidentally splashed in the eyes. Children who come in contact with the concentrated nicotine can suffer seizures, trouble breathing, and can even slip into a coma.
Has your health or your child's health suffered as a result of vaping or accidental e-liquid consumption? Learn more from a knowledgeable e-cig lawyer from Stoy Law Group, LLP at (817) 820 – 0100.
E-Cigarettes are Possibly more Addictive than Cigarettes
According to Time Magazine, one in ten Americans use e-cigarettes in addition to traditional cigarettes. Many smokers have been led to believe that vaping is safer or poses fewer health risks than smoking regular tobacco products. However, instead of quitting, they've just added another nicotine delivery system into their routines.
Research has shown that nicotine is a harmful substance. Although not labeled a carcinogen, it can still cause significant damage to the human body. It increases the odds of developing heart, digestive, and respiratory diseases. Nicotine has negative effects on the immune and reproductive systems and mutates cells in a way that leads to cancer.
Nicotine's only other use has been as a pesticide, but in 2014, the U.S. Environmental Protection Agency banned that practice. Pure nicotine has been found to be more poisonous than arsenic.
Because of the way the body reacts to, craves, and develops a dependency on nicotine, in 1988, it was labeled to be as addictive as cocaine by the U.S. Surgeon General.
E-cig lawsuits have been filed against manufacturers like Juul Labs over addictive nicotine levels in their e-liquids. One container of e-liquid has been shown to possess the equivalent of a pack of cigarettes.
In August 2018, Israel banned Juul e-cigarettes from being imported or sold due to the health risk posed by the highly concentrated levels of nicotine.
The FDA has specifically named Juul as a company whose marketing practices concern them. Two of the e-cig lawsuits filed against Juul in California were brought by plaintiffs who say Juul markets itself as a way to quit smoking, but instead, the users have found themselves addicted to Juul.
As of June 2018, Juul is estimated to be worth $16 billion.
There's also an extreme version of vaping referred to as sub-ohm vaping. These tanks promise to produce a bigger cloud of vapor. In return, it requires a lot more e-juice, which means a lot more nicotine is inhaled.
The FDA ordered that by September 2018, all covered tobacco products, including e-cigarettes and e-juice must be clearly labeled to identify that they contain nicotine and warn of its addictive properties.
Have you become addicted to vaping? Contact Stoy Law Group, PLLC at (817) 820 – 0100 to speak with an e-cig attorney.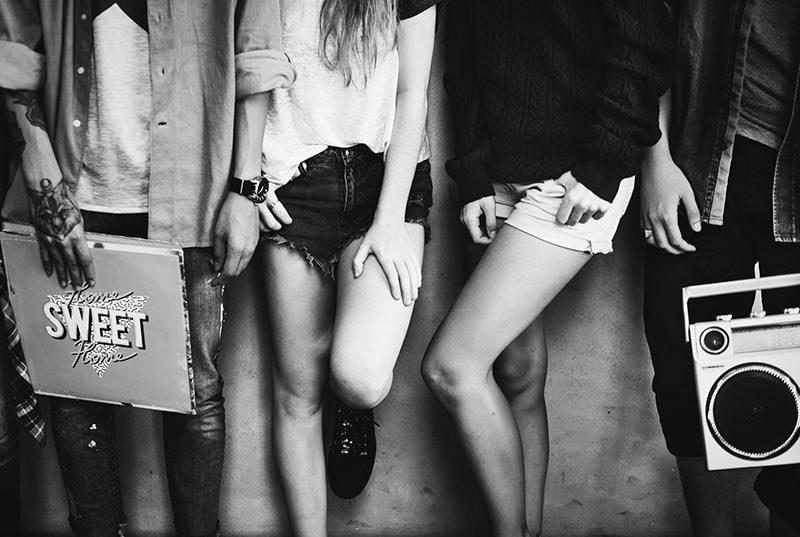 Electronic Cigarettes Targeting Teens?
Research published in 2018 shows that the amount of teenagers who smoke e-cigarettes has increased 75% since 2017 and there has been a 900% increase since 2011.
The FDA's mandate that all e-cigarettes declare they have addictive nicotine was spurred because many e-cigarette manufacturers were targeting minors with their product packaging and marketing campaigns which have led to many young people becoming addicted to vaping.
One of the e-cig lawsuits filed in 2018 against the leading brand Juul was by a mother who claims her teenage son has become addicted to e-cigarettes and has suffered behavioral changes as a result.
The American Journal of Medicine published a study in 2017 that said that young adults were shown to be more likely to move on to smoking cigarettes after experimenting with vaping due to becoming addicted to nicotine.
In March 2018 the Campaign for Tobacco-Free Kids, American Cancer Society, American Heart Association and other groups (including pediatricians) filed an e-cigarette lawsuit against the FDA for its proposed delayed 2022 deadline that does nothing to address concerns about the health threat e-cigarettes pose because they continue to be sold virtually unregulated.
The concerned groups that have sued the FDA argue the 2022 deadline must be shortened and accuse the agency of being on the side of big business rather than protecting consumers, especially adolescents and teens who are becoming addicted to flavored e-cigarettes in staggering numbers.
Labeled with appealing flavors, brightly colored packages, and advertisements featuring young models, in September 2018, the FDA ordered several e-cigarette companies to "reverse" the marketing that has led to an "epidemic" of child and teen usage, or it threatened product sales could be halted.
Has your child or teenager become addicted to vaping? Speak with an e-cig lawyer from Stoy Law Group, PLLC at (817) 820 – 0100.
How Electronic Cigarettes are Becoming the new Big Tobacco
Vape pens are experiencing a rapid amount of growth, which seems to be matched by the decline in the percentage of cigarette users opting to vape instead. In the United States, cigarette sales have dropped almost 30% in the past 15 years.
The lack of regulations in the e-cigarette industry combined with its dramatic growth has left the door wide open for big tobacco companies to become involved and capitalize. They are merging, acquiring and developing their own divisions to take back some of the money big tobacco has lost to the rising popularity of e-cigarettes.
Some of their parent companies or subsidiary names have changed, but the game remains the same. The big tobacco companies are back to do what they do best: keep people addicted to smoking.
The following big tobacco companies are dominating e-cigarette sales:
One of the biggest e-cigarette brands, Blu, is now owned by the United Kingdom's Imperial Tobacco company.
Reynolds America owns Vuse, the biggest brand in the e-cigarette market.
United States e-cigarette company Logic was acquired by Japan Tobacco.
Phillip Morris, now known as Altria spent over $100 million to acquire an e-cigarette company called Green Smoke Inc.
Altria also owns MarkTen through a subsidiary called NuMark and is also investing in vape shop chains.
Are big tobacco companies, that now own big e-cigarette brands, producing a healthy alternative to cigarettes or a method to help people quit smoking?
Not surprisingly, in September 2018, these same major e-cigarette brands owned by big tobacco are facing enforcement from the FDA for their marketing practices.
Lawsuits Involving E-Cigarettes
With e-cigarettes reaching the hands of more consumers as more units continue to be sold without government implementation of safety standards, the number of e-cig accidents and lawsuits continues to rise.
In 2017, over 100 lawsuits were filed in the US by victims of e-cigarette explosions who suffered burns and other trauma.
Plaintiff J. Michael Hoce
In April 2018, an e-cigarette lawsuit that ended up being the first vape accident case to go to trial and be decided by a jury in Florida awarded the plaintiff over $2 million. J. Michael Hoce, lost some of his teeth when his e-cigarette exploded in his mouth due to a defective battery. The e-cig explosion caused severe bleeding and landed him in the hospital for a few days.
Hoce sued the retailer who was obtaining cheap, low-grade batteries imported from China and selling them online through eBay.
Plaintiff Jennifer Ries
In 2013, Jennifer Ries of California, suffered second-degree burns when she tried to charge her e-cigarette in her car's USB port and it blew up, causing her dress to catch on fire. She sued the distributor, wholesaler, and retailer. Jennifer was awarded $1.9 million in 2015 by a jury who found all three defendants liable after the case went to trial.
Plaintiff Erik Howell
In February 2018, Erik Howell filed an e-cig lawsuit against LG Chem, a subsidiary of LG, and Korean battery manufacturer. Earlier in the year, his e-cigarette exploded in his pocket and burned his legs and 75% of his genitals. Other parties Howell named in his suit include the shops where he purchased the charger and other accessories.
Plaintiff Treacy Gangi
The mother of 30-year old Thomas Gangi filed a wrongful death lawsuit on behalf of her son. The lawsuit alleges that in November 2015, Thomas's e-cigarette exploded, a part embedded a projectile in his brain. The e-cigarette explosion also caused the house to catch on fire, resulting in her son's death.
Need Legal Advice About an E-Cigarette Lawsuit?
With lack of any significant government oversight, e-cigarette companies have been given free reign of the market. They are not limited in their marketing practices or faced with as many rules as cigarette companies, so big tobacco is taking advantage and seizing their opportunity to jump into the fray.
E-cigarette makers are raking in billions of dollars regardless of the hundreds of issues behind their products and consumers have been left to take their chances.
E-cigarette lawsuits can be filed for any number of reasons, including:
Wrongful death linked to e-cigarette explosions or e-juice consumption
Injuries resulting from defective vape pens, batteries or accessories
Medical bills and expenses as a result of an e-cigarette accident
Health and addiction issues and related medical costs from habitual vaping
Property damage caused by fires from exploding e-cigarettes
Health problems from exposure to toxic e-liquids and concentrated nicotine
Lost wages from injuries received in an accident involving an e-cigarette
False advertising
If you've encountered any of these or other issues related to e-cigarettes, any of the experienced e-cig lawyers at Stoy Law Group, PLLC can provide more valuable information and assistance.
Please feel free to call our office at (817) 820-0100 or fill out a free case evaluation.