Provisions in the Texas Equal Pay Act ensure that all female employees of the state are paid the same rates as men who perform the same type, grade and quantity of service. In other words, in the Texas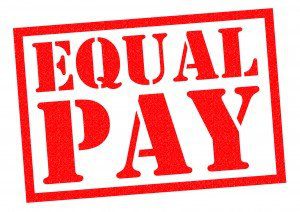 public sector, state law prohibits distinctions in compensation based upon sex.
Unlike many other states, private sector employees are not guaranteed equal pay for equal work. However, state and federal laws do apply to certain private sector businesses that have 15 or more employees.
Federal Equal Pay and Fair Pay Acts
Texas-based employers who engage in interstate commerce are obligated to comply with statutes in the federal Equal Pay Act of 1963 (EPA). The federal Equal Pay Act states that employers cannot discriminate on the basis of sex in pay for performance of work that requires equal skill, effort and responsibility which are provided by employees under similar working conditions.
In a nutshell, this federal law requires equal pay for equal work regardless of sex and applies to private and public sectors. There should be no wage discrimination between men and women as long as the conditions and job requirements and skills are equal.
Title VII of the federal government's Civil Rights Act of 1964 (title VII) in concert with several other federal laws prohibits pay discrimination based upon race, religion, national origin, age and//or disability. While EPA and Title VII prohibit pay discrimination based upon sex, the acts have differences in terms of coverage, enforcement and legal remedies.
For example, under the EPA, an employer may pay different rates to different genders under the following conditions:
Existence of a seniority system
Existence of a merit system
Existence of a wage system based upon quantity
Existence of a system based upon quality standards
Existence of a pay rate system based on factors other than sex (such as geographical location)
The federal government's Lilly Ledbetter Fair Pay Act is a fair employment law that has been amended so that each paycheck reflecting discriminatory pay practices by an employer constitutes an act of unlawful discrimination. Each such paycheck triggers a new deadline for filing a discrimination complaint.
Under the Lilly Ledbetter Fair Pay Act, the discriminated employee must show that the paycheck or other compensation was affected by previous acts of discrimination. In previous rulings, the Texas Supreme Court has ruled that the Lilly Ledbetter Act is not automatically incorporated into state law.
Texas Labor Code Section 21
The Texas Labor Code specifically prohibits discrimination in employment practices based upon race, disability, religion, sex, national origin and/or age. This applies to all Texas companies that employ 15 or more workers.
How to Respond to Pay Discrimination
To enjoy fair and equal pay in Texas, claimants must act quickly. Complaints will be reviewed by the Equal Employment Opportunity Commission or by the Texas Workforce commission whom will investigate a properly filed claim.
Pay discrimination must be halted in Texas. The Warriors for Justice at Stoy Law Group, PLLC, are dedicated to upholding the integrity of non-discriminatory practices in the workplace. The firm is accepting confidential review if payroll discrimination cases. To schedule your review, call 817-820-0100 or submit a free case evaluation. If you have written documentation and/or records in support of your complaint, please bring this information to your review.
Implementing and enforcing equal pay for equal work rights are important for Texas and the US. Stoy Law Group, PLLC, will do their part in this initiative.