Texas is known for its motorcycle culture. With long stretches of open road and countless different terrains, it is a great destination to bring your motorcycle.
Before you take to the open road, you need to know Texas' motorcycle laws.
Below we have detailed everything you need to know to safely and legally ride your motorcycle in the state of Texas.
Texas Motorcycle License
You must have a valid Class M license to ride a motorcycle in the state of Texas.
To get this license, you must already have obtained a regular driver's license.
How to Earn Your Texas Motorcycle License
To earn your motorcycle license, you must take a Department of Public Safety (DPS)-approved motorcycle safety class. The DPS website includes a map of all approved safety courses across the state.
The motorcycle safety course teaches new or inexperienced riders some important basics of how to ride a motorcycle and how to handle some possibly dangerous situations.
Courses break down the basic controls of a motorcycle and teach future riders some high-priority safety skills.  You can expect your course to include several hours riding a motorcycle in a controlled environment as well as time in a classroom.
Once you've completed your motorcycle safety course, you can bring your results to your local DPS office.
It is important to note that if you have a motorcycle license from another state, you can skip the safety course and simply bring in your current out-of-state motorcycle license.
Although Texas requires a motorcycle road test to earn a license, they might waive this test if you are over the age of 18 and have completed the motorcycle safety course.
The final step to earning your Class M license is taking the written test.
This exam will test your knowledge of all Texas motorcycle laws. Questions on this exam may ask you how to properly swerve your motorcycle, when it is appropriate to use certain signals on your motorcycle, or what to do about a flat tire, among other questions.
Minors age 15-17 are still eligible to earn their Texas Class M license.
To do so, they must have taken and completed the 32-hour classroom phase of a Driver Education course. They must then obtain a Class C learner's permit. At this point, they can take the required basic motorcycle safety course.
All minors must complete and pass the road test and written test to earn their motorcycle license.
Furthering Your Education
If you are returning to riding a motorcycle after some time away, you may choose to take an Intermediate Motorcycle Operator Training Course.
This course is only one day long and may be taken on your own street-legal bike. All intermediate students must be 18 years of age or older. This course will make you a safer rider and may even lower your insurance rates.
Those with advanced knowledge of handling a motorcycle can take a DPS-approved Advanced Motorcycle Operator Training Course.
All your classmates in this course will be at your level and will bring their own bikes to class. The advanced class is a great place to learn techniques for handling high-speed roads, slippery pavement, and cross-country rides.
It may also help to lower your insurance rates.
Moped Laws in Texas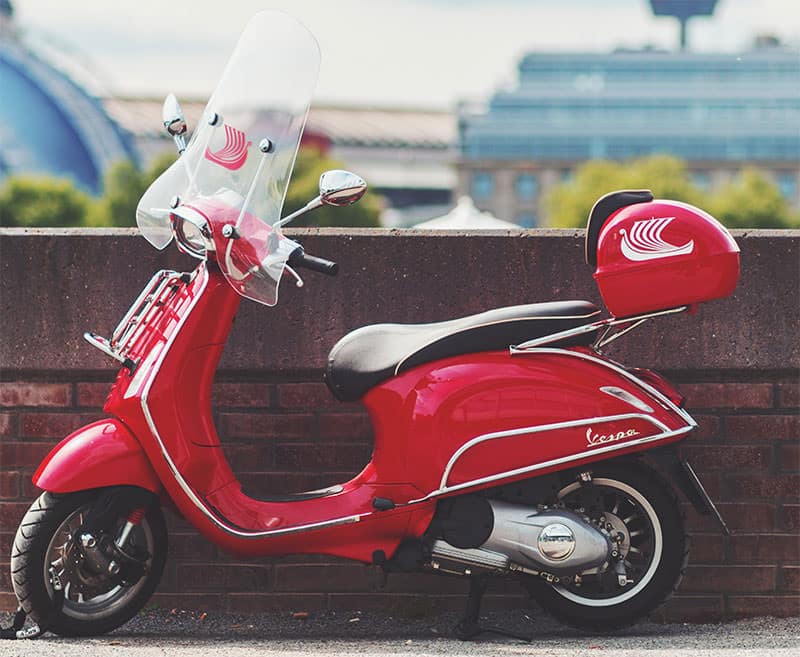 If you are interested in driving a moped instead of a motorcycle, the licensing process is a little simpler.
You'll need a Class M license with a restriction code of "K," which will restrict you to moped use.
There is no road test required, but a class and a written test are required.
Mopeds are any motor-driven cycle that cannot exceed 30 mph and has an engine smaller than 50cc.
Texas Motorcycle Helmet Law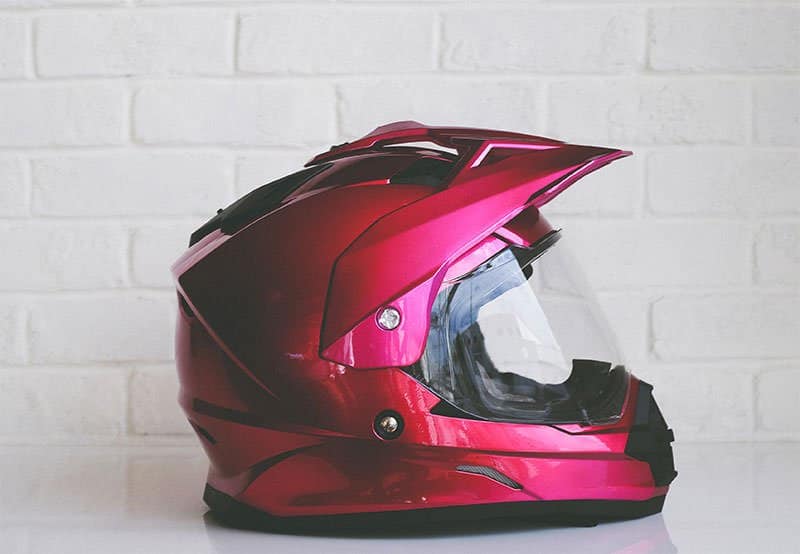 Motorcycle riders and passengers in the state of Texas are required to wear a helmet that meets the Federal Motor Vehicle Safety Standard #218.
If you are 21 years of age or older and have passed a DPS-approved Motorcycle Operator Training Course or can show proof of having at least $10,000 in medical insurance, then you are exempt from wearing a helmet.
Wearing a helmet can provide you with some serious protection while on your bike.
The majority of motorcycle fatalities are due to head injury.
You are five times more likely to experience a serious injury if you opt-out of wearing a helmet. Helmets also protect you from wind, flying objects, cold, sunburns, and hearing loss.
The right helmet should fit your head closely and feel snug, but comfortable. It is important that your motorcycle helmet be completely secure. You do not want it to move around while you're on the road. You also want your helmet to be in prime condition. Any cracks or dents in the helmet may decrease its effectiveness and put you in danger while you're riding.
Helmets are an essential component of staying safe while on your motorcycle. We know motorcycle accidents can happen, whether or not you're wearing a helmet. If you ever experience an injury while on your bike, contact our personal injury lawyers for proper legal representation to help you get what you need to pay your medical bills and get back to your motorcycle.
Texas law prohibits officers from pulling over motorcyclists for the sole purpose of verifying that they have passed the basic safety course or that they have the necessary medical insurance coverage.
Motorcycle Safety Gear Laws
The state of Texas does not require any other specific pieces of safety gear.
However, by opting to wear certain pieces of gear, you can help protect the parts of your body that are most vulnerable when riding a bike. Your eyes, face, and extremities are particularly vulnerable when riding a motorcycle and it is therefore important that you provide them with extra protection.
Eye Protection
Eye protection is important for keeping the wind out of your eyes. The wind can cause your eyes to water, decreasing visibility.
If you opt to wear eyeglasses, then you will want to make sure they have shatterproof lenses. Goggles are even more protective than glasses and seal wind out to protect the eyes. Make sure your goggles are clean and do not block your peripheral vision.
Face Protection
It is quite easy to get hit in the face while riding a motorcycle.
Other vehicles may pick up stones or rocks that can hit your face. Consider all of the bugs that hit a windshield when you drive. These creatures can also hit your face if it isn't protected.
Research shows that those who wear a face shield while they ride are at a much lower risk of injury.
It is easiest for your face shield to be included as an extension of your helmet. Make sure the shield is securely fastened and is void of any scratches or damage that may impede your sight. You will also want a face shield that is strong enough to withstand impact or penetration from flying objects.
Protective Clothing
The clothes you wear while riding a motorcycle should protect you from all the elements. You will want clothes that will help prevent sunburn, keep you warm in the cold, and protect you from windburn and dehydration.
The best riding clothes can also help minimize the risk of cuts, abrasions, and burns that may occur on your bike.
For ultimate safety wear long sleeves and long pants when going for a ride on your bike.
Your shoes should have a low heel. Avoid any shoes with laces that may become tangled while you ride.
Gloves are another excellent safety piece. Choose a pair that provide excellent grip.
If you live in an area where rain or snow is common, you'll also want a waterproof jacket.
Lane Splitting in Texas
Lane splitting occurs when a motorcyclist rides their motorcycle between two striped lanes of traffic. Lane splitting also refers to when two or more motorcycles ride side-by-side, sharing a single lane of traffic.
According to the Texas Transportation Code, lane splitting is illegal in the state of Texas and may result in a ticket or fine.
Lane splitting is legal in several U.S. states, including California. If traveling on a long road trip, be sure you are aware of the lane-splitting laws in each state where you ride.
Even if you avoid lane splitting, it is still possible to get into an accident while riding your motorcycle. Be sure to seek legal representation any time you experience an injury on your motorcycle.
Texas Motorcycle Inspections
All vehicles in the state of Texas are required to pass an annual inspection.
This inspection ensures your motorcycle is up to the most current safety standards in the state.
There are also seventeen counties in Texas that require an emissions test in addition to the inspection. By checking your motorcycle's emissions, the state can be sure it is environmentally friendly.
When you bring your motorcycle in for inspection they will check the following:
Horn
Mirror
Steering
Brakes (system)
Tires
Wheel Assembly
Exhaust System
Tail Lampe
Stop Lamp
License Plate Lamp
Rear Red Reflector
Head Lamp
Motor, Serial, or Vehicle Identification Number.
During your inspection, they will also verify that your motorcycle has a saddle for the rider.
Your inspector will also check that your motorcycle runs by using no more than three wheels to propel the vehicle forward.
Once your motorcycle passes inspection, you will receive an approved certificate that you should place near the rear license plate of your bike.
If you own a motorcycle in Texas, then you must register your motorcycle with the County Tax Assessor-Collector in your county. This is where you'll receive your license plate, which must be attached to your motorcycle at all times.
On your license plate, you must also include an up-to-date registration sticker.
Bear in mind that for your motorcycle to pass its inspection and successfully be registered, you must have proof of liability insurance. The minimum acceptable insurance includes $30,000 for bodily injury or death for one person, $60,000 for bodily injury or death for two persons, and $25,000 for property damage.
Texas Motorcycle Parking Laws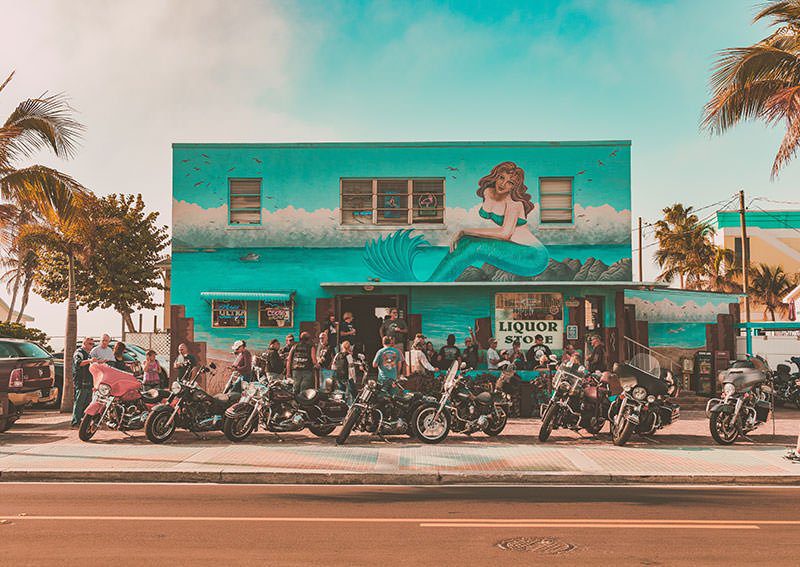 Motorcycles can be parked in open and available parking spots.
You can only park your motorcycle in a handicapped parking spot if you have a disabled license plate and placard attached to your bike. You may not share this placard with other motorcyclists or lend it out.
It is against the law to park your bike in the striped area adjacent to any handicapped parking spots. Many motorcycle riders attempt to park in these spaces as their bikes are narrow and fit well.
However, parking on these stripes might earn you a parking citation and fine.
Passengers on Your Bike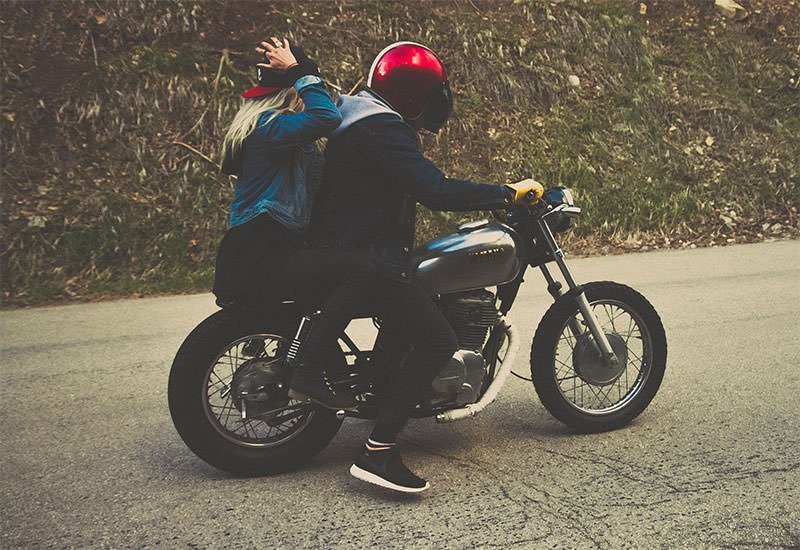 Riding a motorcycle is even more fun with a friend.
Any passenger on your motorcycle must be at least five years of age. Any passenger between the ages of five and 21 must wear a helmet when on the motorcycle.
Passengers older than 21 can ride without a helmet if their driver meets the requirements for a helmet exemption.
If you'd like to give a passenger a ride, your bike must have a designated passenger seat.
Exhaust & Muffler Laws in Texas
Many states have laws in place that govern the volume of your motorcycle's muffler.
Texas has no laws that govern the decibels of your motorcycle's muffler.
When in Texas, your muffler can be as loud or as quiet as you like.
In Case of a Motorcycle Injury
Motorcycles are a fun and often exciting way to travel. It is essential that you understand the laws before hopping on your bike in the state of Texas.
These rules will keep you safe while you're on the road.
Even if you follow all of the laws and wear all of your protective gear, riding a motorcycle can still be risky.
If you experience an injury while riding your bike, don't forget that a lawyer can help. We make it our goal to help you get the funds you need to cover your medical bills and get proper medical treatment.
Contact our experienced attorneys or fill out the free case evaluation form if you have any questions.
The lawyers at Stoy Law Group, PLLC are here to help!